Research: Tramigo OBD Premium is between 18,8% to 64,25% cheaper than its competitors
Tramigo OBD premium is between 18,8% and 64,25% cheaper than the leading competing OBD 2 devices.
We suggest you do your own research, like we did (on 27.09.2022).We weren't surprised, but you might be.
So what are we saying?
We are saying we did the research and it shows that Tramigo OBD Premium is between 18,8% to 64,25% less expensive than competing brands. By less expensive we mean cheaper to buy, own and operate (all 3).
We researched the true costs of OBD 2 vehicle trackers available on the market today. We felt consumers were being mislead or misdirected with some clever pricing and sometimes hidden info that could be referred to as the small print from the old times.(To be fair to our competitors, from the sampled brands, we did notice that as long as the customer knew to ask the right question they did answer honestly, and we included a screenshot below to make that clear).
We felt we were offering the best value for money by a long shot and we were confident of the outcome but felt like it was time to verify it again. So we went to the worlds leading online store and investigated how much the competing products cost. (Yes the world famous store that started by disrupting how books were sold - we suggest you do you own research, and after reading this article you will know what to pay attention to and making your own comparisons will be easy).
Please note that the results would have favored Tramigo even more if we had done currency conversion (with today's [27-09-2022] conversion rates the range was in fact 22% to 65% cheaper) but since currency rates change daily we just went with the 1:1 EUR/USD.
How did we do our research / comparison
We went to look at competing devices sold on the world's largest online retailer - we felt that's probably the most representative selection and available to everyone more or less.
On that popular shopping platform we searched for "obd2 tracker" - the generic way these types of devices are described and searched - so that we compare products in a representative way.
From the results provided, we picked first the product that was labelled "Axxxxx's choice", then we picked 2nd product that was listed next to it as "HIGHLY RATED" and finally we picked one a 3rd device from a brand we knew to be well know. We know felt like we had a fair representative selection. Then we looked up the prices and compared the competitors prices against the price for Tramigo OBD premium.
For pricing we figured that lets assume the customer wants to use the product for 2 years. So that means buying the product and use it for tracking for 24 months. We calculated the cost for the customer. And then we compared.
Then we looked at the results and got pretty excited.
Then we created the pricing table below to make the comparison easy to follow.
In this article we named these competitors C1, C2 and C3. We took screenshots showing the listed prices but blurred out brand names just to be as fair and transparent as possible
We recommend everyone does this for themselves. Prices and what we refer to as total cost of ownership, your true expenses related to buying and using the device, are fairly simple to compare. The features can sometimes be slightly more difficult.
What did we find out?
The results are summarized in the table below.
| | | | | |
| --- | --- | --- | --- | --- |
| | | | | |
| | Tramigo OBD Premium (in €) | C1 (in $) | C2 (in $) | C3 (in $) |
| Product purchase price | 123,5 | 19,99 | 79,99 | 70 |
| Activation fee | 0 | 0 | 39,99 | 0 |
| Tracking 12 months (year 1) | 0 | 215,88 | 0 | 96 |
| Tracking 12 months (year 2) | 38 | 215,88 | 78,93 | 96 |
| | | | | |
| Total cost of ownership (tracking for 2 years / 24 months) | 161,5 | 451,75 | 198,91 | 262 |
| | | | | |
| How much more expensive is this competing product compared to Tramigo OBD Premium? | | 179,72% | 23,16% | 62,22% |
| How many Tramigo OBD Premiums could you purchase for the price of this competing product? | | 2,79 | 1,23 | 1,62 |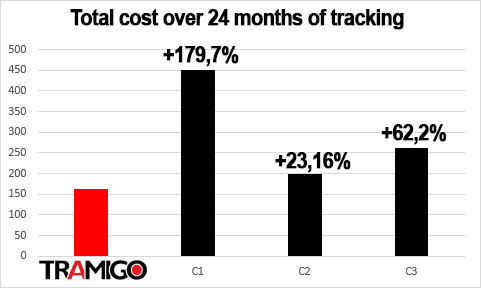 Screenshots - how we picked the comparing products
Selecting the 2 top promoted products marked as "Highly Rated"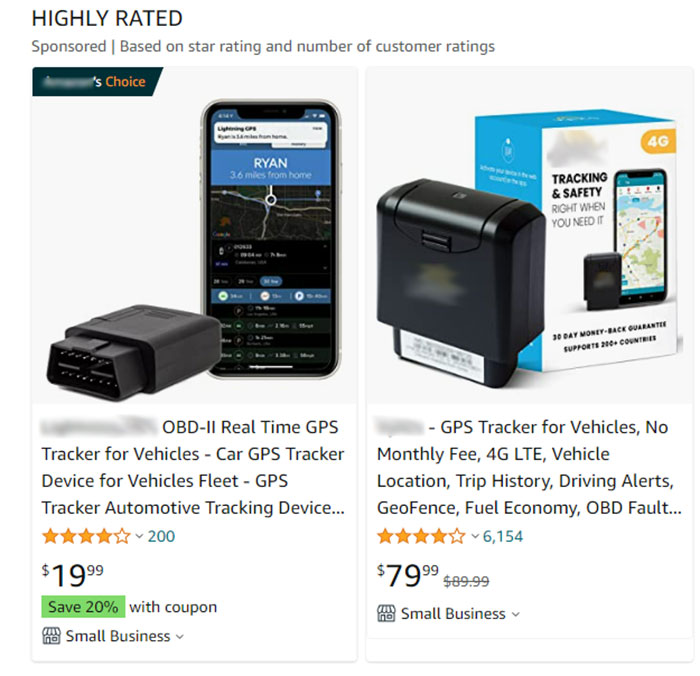 Competing brand product - C1
Competing brand product - C2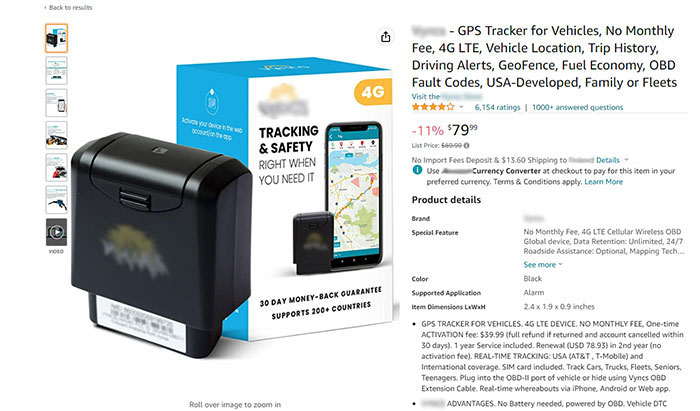 Competing brand product - C3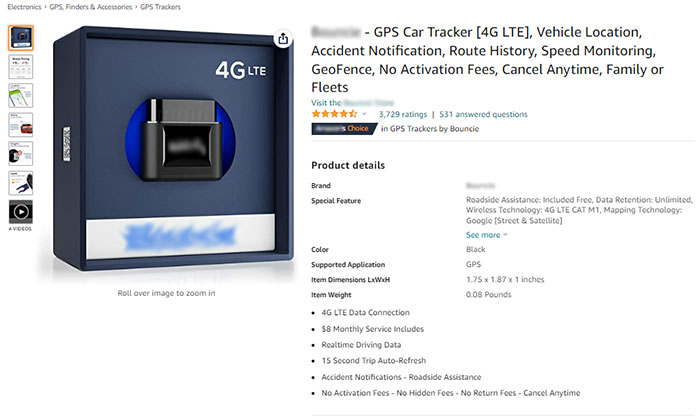 Prices change and new products appear? How do I know this comparison is relevant when I am reading it?
The short answer is you don't, as we have no idea when you will be reading this. This comparison was done and this article was written in September 2022. This information was correct on that day and that's all we can guarantee.
So its definitely a good idea to do some research on your own. We encourage it as providing value and quality is in our DNA, and our data packages are designed to be optimized for the use cases and we do our best to disrupt the market. So while the market may have changed by the time you are reading this, Tramigo will have reacted.
You may very well want to look into other aspects of the product features and compare those side by side too. Tramigo software for example is designed and developed in Europe, hosted on European servers etc.. That means the software will receive updates and your data is private and protected. May competitors operate white labelled Chinese software over Chinese servers. Again this may or may not be an aspect you may wish to consider from reliability, security or privacy point of view for example, depending on who you are and what you will be using your product for.
I want to do my own price comparison - what should I look out for?
If you are only evaluating price, with products like the OBD 2 vehicle trackers and FTC diagnostics scanners you should always have in your mind what will be the total cost of ownership over the product life time. It does not necessarily need to be your main criteria, but you certainly should be aware of what you are going to be paying for the use of your product. These products use data transfers over mobile networks to communicate the tracked location and the cost of using these networks is included in the price you pay one way or another.
In this particular comparison we estimated the life time to be only 24 months long. You may very well plan to use your product for 48 months or more. With Tramigo, you can certainly expect to use the product much longer, as the warranty alone has you covered for 24 months.
(The Tramigo OBD Premium 1year (EU edition) for example comes embedded with a multinetwork connectivity that gives you unlimited tracking for 12 months across 27 countries of the European Union , the United Kingdom and Switzerland, French Guyana, Gibraltar, Guadeloupe, Iceland, Liechtenstein, Martinique, Mayotte, Norway, Reunion. In this comparison we did not extend the evaluation beyond the cost, but you may certainly want to verify other aspects of the provided features.)
To understand the total cost of ownership you need to add together all the cash outlays you need to make in order to operate the product, in your designated area. These typically include the initial purchase price but may also include other fees like activation fees, monthly subscription fees, and other fees that may not be clearly communicated. Some brands charge you separately for the software and/or smartphone app you will need to use to track and operate the device functions.
The pricing for Tramigo OBD Premium is simple, 1 fee covers everything for the specified number of months, and extending the usage further means you only have to purchase connectivity extension of desired length. With the Tramigo OBD premium an additional year can be purchased for 38€. All prices include VAT.
If you are considering products from other manufacturers and are unsure of the total cost, you can always contact the seller and ask, list clearly what are the total costs related to the operation of the product using the smartphone or tablet or the like you are planning to use your product with. Whether or not the provider provides you with a clear reply or not is your first indicator on if you are dealing with a reliable seller with a solid product.
We are happy to point our that in our comparison for example, our competitor did provide a direct answer to a direct question. One that we hope helped the person who posed the question avoid unwanted surprises and receive clarity regarding what the total cost of ownership in this case would have amounted to.

What else?
The Tramigo OBD Premium holds up very well when comparing technical features and we ship it with an extension cable allowing you to hide the device if you want. The connectivity on the OBD Premium 1 year (EU edition) is configured for the EU market. If you are interested in operating your device elsewhere, please contact us by email and we will can ship you devices with alternate multinetwork connectivity set up, depending on your needs. Please note this may slightly affect the price of your product.
We will also be posting an article on a full technical comparison at a future date.
Shop the Tramigo OBD Premium here.