Read this article to get help on ordering so your purchase wont get stuck during checkout.
How to order products from Eu.Tramigo.Store
Shipping and taxes
Eu.Tramigo.Store delivers product globally. All shipping and taxes will be calculated at check out. Shipping costs are calculated based on weight. and destination We will continue the development of available shipping and payment options provided.
All orders of 300€ and more are eligible for free shipping.
All shipments will be made using only shipping methods that provide you and us with a tracking code that allows both parties to monitor shipment progress.
VAT excemptions for EU based businesses.
VAT in Finland is 24% on total cost. In accordance to EU tax regulations, all EU businesses are excempt from paying VAT. In order to qualify for VAT exception businesses register their business using a valid EU VAT code during check out. (VAT codes will be checked before shipments are sent and we will contact you incase you have accidentally entered invalid code.)
Please view instructions below to learn how to register your business during check out. returning customers who have previously registered their businesses will be able to login and VAT excemption will be automatically applied.
Guide: Registering your business for VAT exception during check out
Step 1
As you enter check out please make sure you click on " Please click here to register/sign-in and CLAIM VAT EXCEMPTION"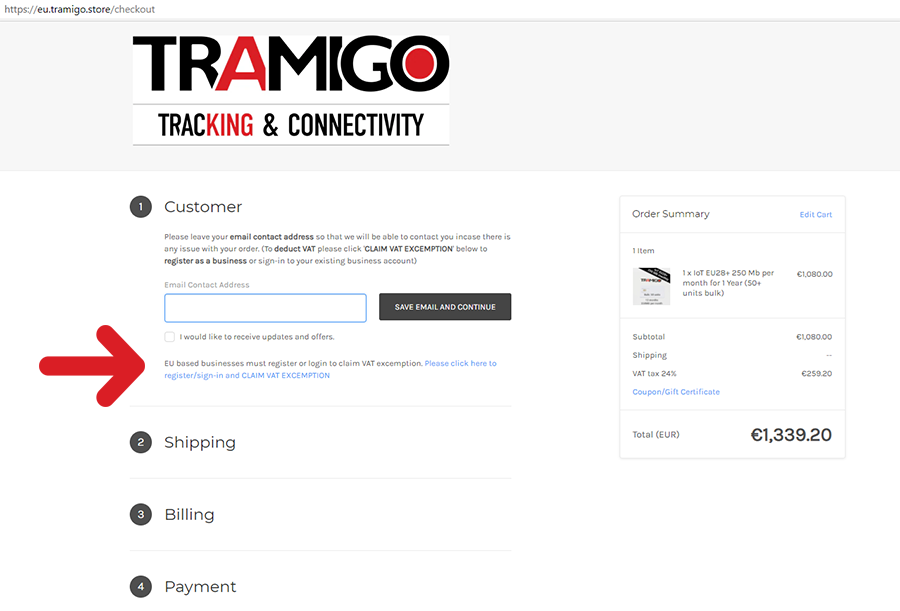 Detail: " Please click here to register/sign-in and CLAIM VAT EXCEMPTION"

Step 2
You will be presented with the screen where you can either login as a returning customer - OR - proceed to "Register as a EU Based Business to qualify for VAT EXECMPTION". If you are a new customer and a EU based busines please click to proceed with registration.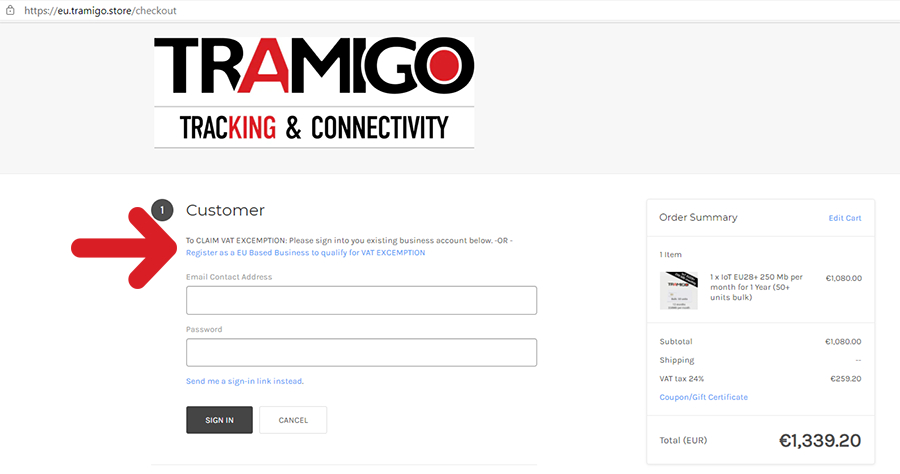 Detail: " Register as a EU Based Business to qualify for VAT EXECMPTION"

Step 3
You will now be presented first with the account creation page. Here you are asked to create your account and choose a password. You can use your preferred email. If you wish you may optin to received periodic news, updates and offers from Tramigo.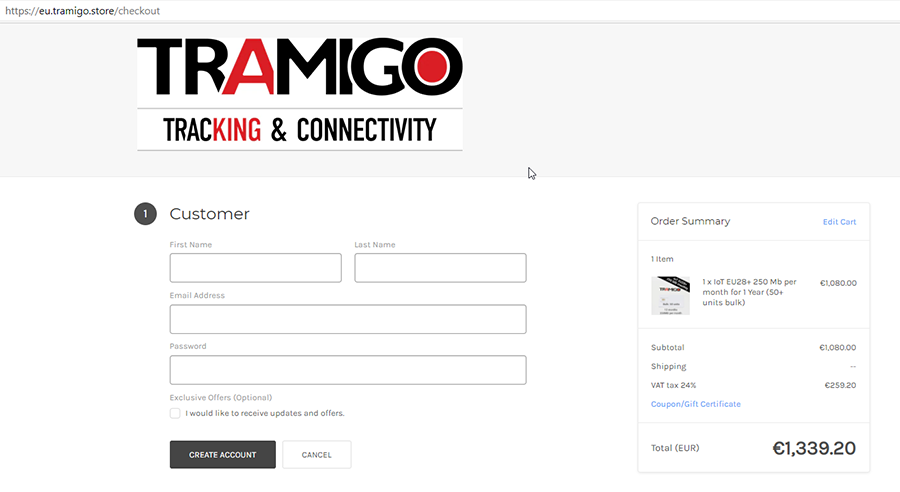 Detail:The platform will request you to create a strong password, containing a combination of letters, numbers and special characters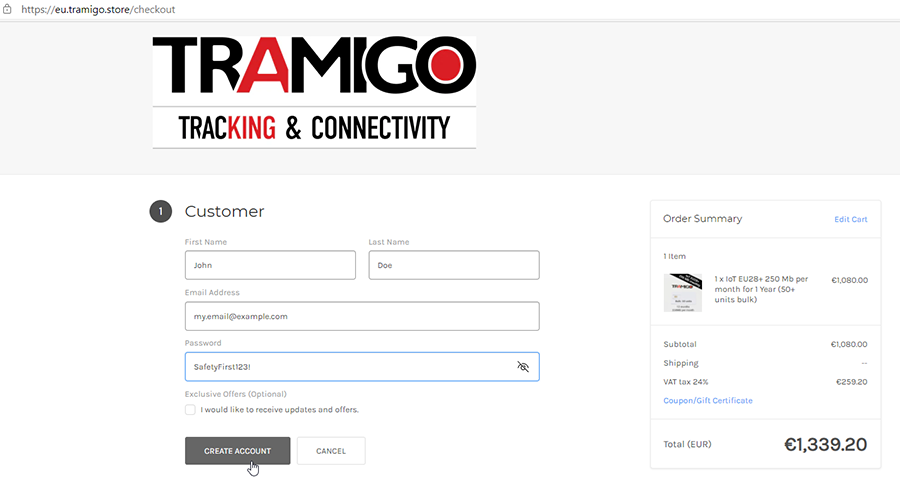 Step 4
Now that you have your account created with basic contact details (incase anything goes wrong with your registration process we will now be able to contact you), and you may proceed to register your business. Please enter business name and valid VAT number.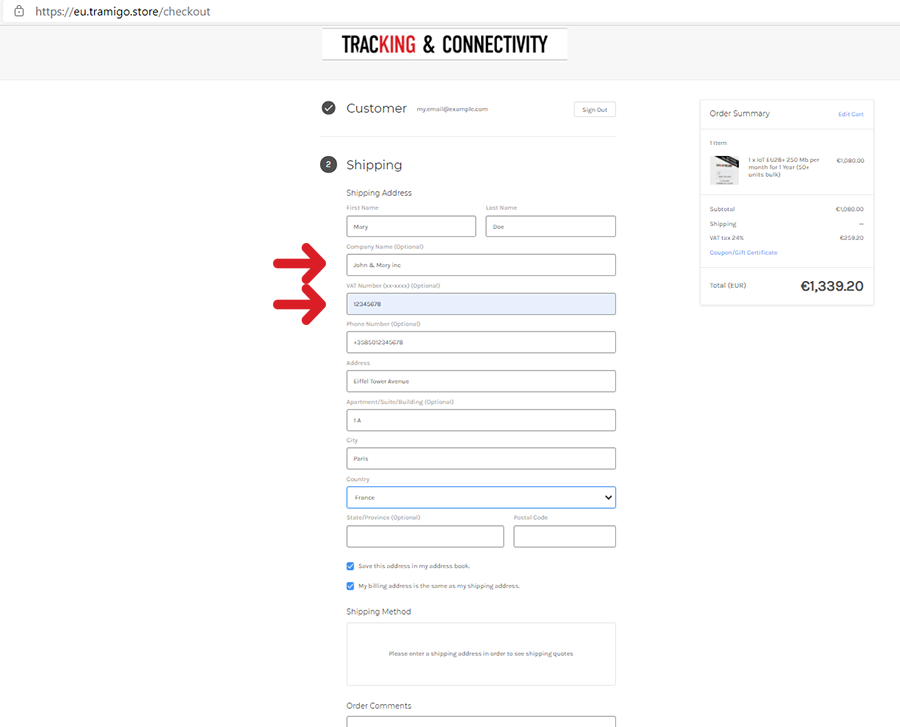 Step 5
You will now be prompted to enter details regarding your preferred shipping address. Once you have entered all the required details, the checkout system will automatically update your check out price by calculating your shipping cost and deduct VAT.
Please note that we will verify the VAT validity prior to shipping and contact you incase you have accidentally made a mistake during the process.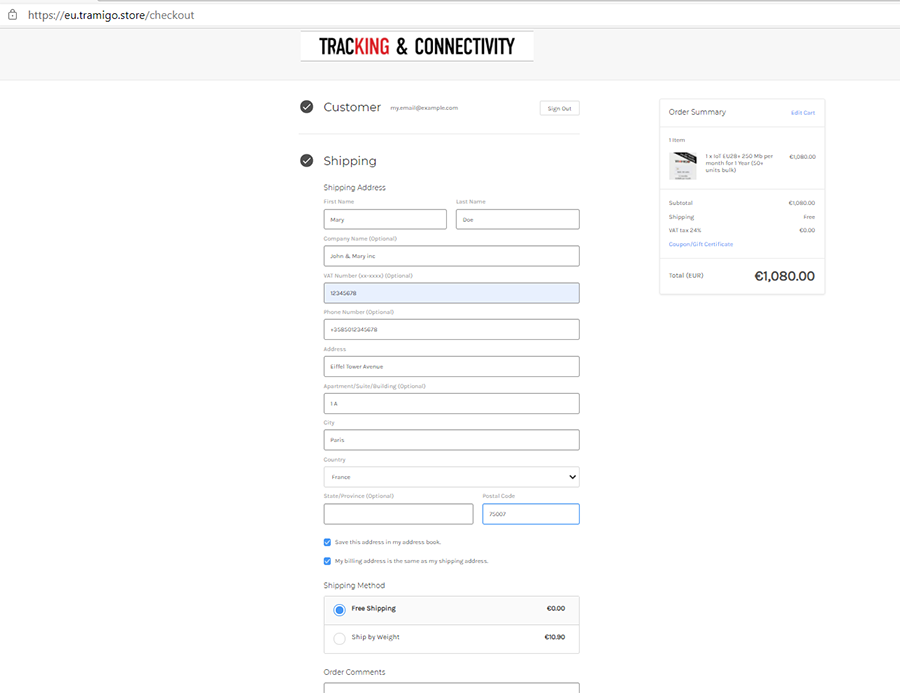 Step 6
At the very botom you will also be able to select from supported shipping options. Price will be automatically reflected. All orders of 300€ and above will qualify for free standard shipping.
Available shipping options may vary depending on destination.
We are constantly working on adding more options - if you are in a rush and wish to request priority shipping even if its not offered you may contact us and we will make the necessary arrangements to accomodate you the best we can.