Intro to OBD 2 Vehicle Diagnostics and GPS Tracking
Read this article if you would like to better understand what OBD 2 diagnostics and GPS vehicle tracking means in practice. Learn how to select optimal device to minimize your costs while getting the maximum benefits out of your device purchase.
What are OBD 2 devices?
Cars have increasingly sophisticated electronics these days. OBD (which stands for OnBoard Diagnostics) is a term referring to vehicles diagnostics and reporting capabiility standard, a feature delivered by these electronics.
It's fair to say that OBD 2 is an improvement or upgrade on that (original OBD) standard. (Please note that while this is a wide spread and established standard you may always encounter differences in how vehicles actually support this standard). OBD 2 was adopted later (1996) and anything before that date is most likely OBD (or OBD 1 as they have later been classified). More on the history below.
OBD 2 devices are devices that have been designed for consumer use, for quick and easy access to this diagnostics data. Vehicle owners can plug the devices directly to the cars OBD port themselves to begin using the device on their own.
Good to know:
OBD 2 devices were initially developed for professional car mechanics for diagnostics purposes. Tramigo OBD Premium represents a consumer friendly device which gives users powerful diagnostics insights conveniently on your mobile phone, ideal for users who are looking to save money on their vehicle maintenance.
Also included is the ability to track your vehicle positioning using GPS and to monitor driver behaviour, for example harsh braking and acceleration, engine RPM's. Users can also monitor when vehicle leaves or enters designated areas (users can configure preferred areas using the Tramigo App).
Good to know when buying an OBD 2 tracking and diagnostics device.
There are some things that are important for buyers to understand when selecting a device.
There are many providers out there but understadning a few central points wil help you choose the best device for you - and demonstrtate what sets Tramigo OBD Premium apart from the competition.
Cost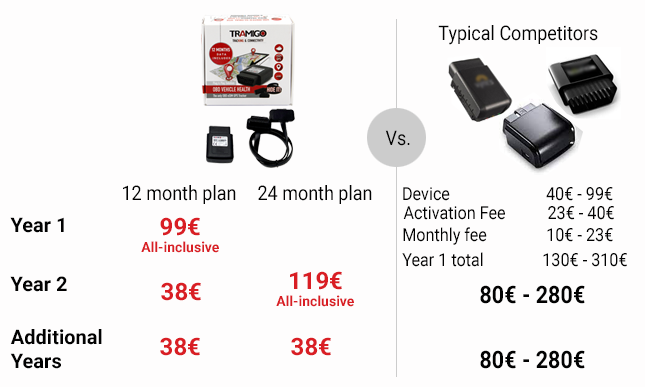 Firstly it should be noted that the Tramigo OBD Premium has been optimized for lower total cost of ownership. This is a key issue to understand as many are fooled by low initial fees into getting devices that will cost them an arm and a leg each month to use. Some even charge you for an activation fee.
The Tramigo OBD Premium is sold as all inclusive with its 12 month or 24 month data plans - you pair your device with your mobile phone (download the free Tramigo App from App store or Google Play store) and you are ready to go.
It is also fair to say that once you add any additional years Tramigo OBD pricing is currently unbeatable in the market. In the end the total cost for user will depend on how long he/she is planning to use it. If you are considering a minium of 12 months usage (and anything longer) , for the life time of the device, Tramigo OBD is the most cost effective device on the market.
( please note - as of June 10th 2021, we are preparing to publish a full cost comparison and feature breakdown post to help buyers clearly idenify all features and costs)
Overall user experience
Secondly the Tramigo OBD premium is delivered as a complete solution - meaning the everything that is included, the device , the extenbsion cord, the embedded connectivity (eSIM) and the software are all from the same provider meaning they work together seamlessly and the usability and user experience is smoother over all.
Privacy and Data Security
Byuers may also want to pay attention to the wau the software infrastructure has been set up in terms of privacy and security - while many alternatives on the market come with software and hosting from China, Tramigo customers on the otherhand will know that all their data is hosted on secure EU based servers. This is a distinct infrastructure choice made by Tramigo rooted in the brands central beliefs and values to always opt for quality and privacy.
Diagnostics capability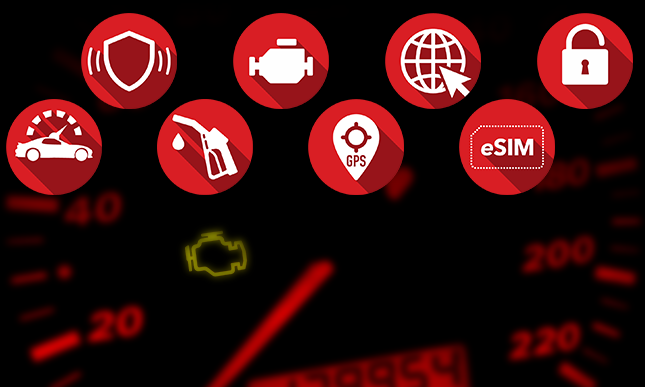 When it comes to vehicle diagnostics cabability its important to understand that OBD 2 devices that are aimed at consumers are significantly different from the professionally used diagnostics devices.
If you are in the market for a consumer OBD 2 tracking and diagnostics device you can choose Tramigo if you want to choose a device that lets you track and diagnose conveniently with the most functionality on the market, the most Diagnostics codes (DTC) covered, the highest diagnostics compattibility, and the highest vehicle model compattibility on the market.
Security
The Tramigo OBD Premium is designed to follow the brands traditional emphasis on overall quality and security. So even though Tramigo itself does not classify OBD tracking as secure tracking (since the devices can be removed more easily than some of the other Tramigo models that are hard wired and hidden), our legacy is why the OBD Premium also offers the most advanced security features out-of-the-box of all the OBD 2 devices on the market.
The OBD Premium not only ships with an extension cable that allows for a covert installation it also comes with a built-in battery that will continue to transmit its location even after the device has been removed (for how long depends on your comnfigured settings, we typically refer to about 20 minutes but this period can be extended significantly). Finally
How do OBD 2 Vehicle GPS trackers work?
What is the OBD 2 standard?
For further refeerence / a quite detailed description, please this comprehensive wikipedia article (in english) : https://en.wikipedia.org/wiki/On-board_diagnostics
OBD stands for on-board diagnostics, and the number "2" means level 2 - the second release. OBD1 originated back in the 90s in the United States, according to the requirements of the California authorities. The first generation was focused mainly on collecting environmental data. Improving vehicle quality results in higher emissions. For example, a malfunction of the ignition system, fuel supply, etc. Generally, OBD1 was rather poor in performance.
In 1996 (in the USA) a new OBD2 standard was introduced, it became mandatory for all car manufacturers, and became universal.
Now OBD2 is a powerful enough tool for diagnostics, reading data, resetting errors, etc. And with Tramigo OBD Premium you can do it yourself.
For example, if you get a CHECK-ENGINE error, then you can easily and simply "read" its code, then look at the value in Tramigo Cloud or App and reset the error or go to the service station knowing what you need to fix.
Using a OBD 2 device
Plugging into the port
The OBDII port on vehicles is located on the driver's side under the dashboard. Here are the steps on how to find the OBD II port.
1.Open the driver's door.
2.Look under the dashboard on the driver's side.
3.Some models require you to remove the rectangular fuse box cover, if any.
4.Find the OBD2 port on your car. The OBD2 port is a connector. It has 16 pins and it is distinguished by its trapezoidal shape
Compattibility - which vehicle can you use an OBD 2 device
As OBDII was made compulsory on the cars 1996+ Tramigo OBD Premium can work on any cars. Please note, that some of the vehicles may not be fully compatible with diagnostic, even though tracking will work everywhere.
How your Tramigo OBD Premium is plugged in and activated
We recommend turning off the car engine before plug-in the OBD Premium.
Locate the OBD-II port and plug-in the OBD Premium
Tramigo OBD device will now connect.
After plug-in the device, start engine and drive.
After few minutes drive green light will turn on.
Start locating your device in the Tramigo application.
How does the tracking work?
With Tramigo OBD Premium tracking works perfectly on the areas with 4G+, 4G or 2G coverage. As it works under the CAT-M1 technology it can receives the GPS signal in remote areas. Tracking works simple; you can always watch live tracking and check reports. You can check trips or any kind of alerts that you set up by yourself in the mobile app or Tramigo Cloud.
How does the Tramigo OBD Premium tracking work?
How does the Tramigo OBD Premium differ from other tracking devices? Besides the unique hardware features and vehicle model compatibility range similar to professional diagnostic tools, the Tramigo proprietary software gives users versatile tracking functionalities that make tracking user friendly. Features include the abilty to track and monitor either using your mobile phone or using the Tramigo Cloud online tracking software suite making the Tramigo OBD Premium a viable choice for small businesses looking to track multiple vehicles.
Tramigo App and Tramigo Cloud give users a range of configrable alarms (device connected/disconnected, fuel consumption, exceeding configured speed limits and many more), trip reports (download or playback trips and journeys completed, holistic vehicle diagnostics reports covering things like engine temperature, battery voltage etc..).
(screenshots)
How do the OBD 2 diagnostics work?
There is a worldwide list of default trouble codes for every car. The codes are usually written first letter and then numbers. For example: "P0141". In the Tramigo Cloud we wrote an explanation for every code that it would be easier to understand where is the problem and how to solve it.
There are exist only 4 types of the trouble codes:
"P" at the beginning of the code, stands for Fuel and air metering and auxiliary emission control (main and general trouble codes)
"C" stands for Brakes and Traction control
"B" stands for Body systems
"U" stands for Network electrical.
This diagnostic trouble code (DTC) is a generic powertrain code, which means that it applies to OBD-II equipped vehicles. Although generic, the specific repair steps may vary depending on make/model.
As you can see sign "reset" meaning that if such code is not bothering the car and you don't want to see check engine light on the dashboard you can just clear the dashboard. More detailed about check engine light please check this blog.
Did you now that Tramigo OBD will also be the most economical OBD 2 vehicle tracking device you can purchase?
We did the research. Read it here.