Tramigo OBD Premium - Hardware specifications
OBD2 Vehicle Diagnostics and GPS tracking by Tramigo
Tramigo OBD Premium is a OBD2 vehicle diagnostics and GPS tracking device sold as a complete solution including hardware, pre paid network connectiovity for 12 or 24 months, software (TramigoApp for mobile phones or TramigoCloud desktop fleet management with bulk purchases) and the product is shipped with an additional extension cable to accomodate those users who may wish to hide the device.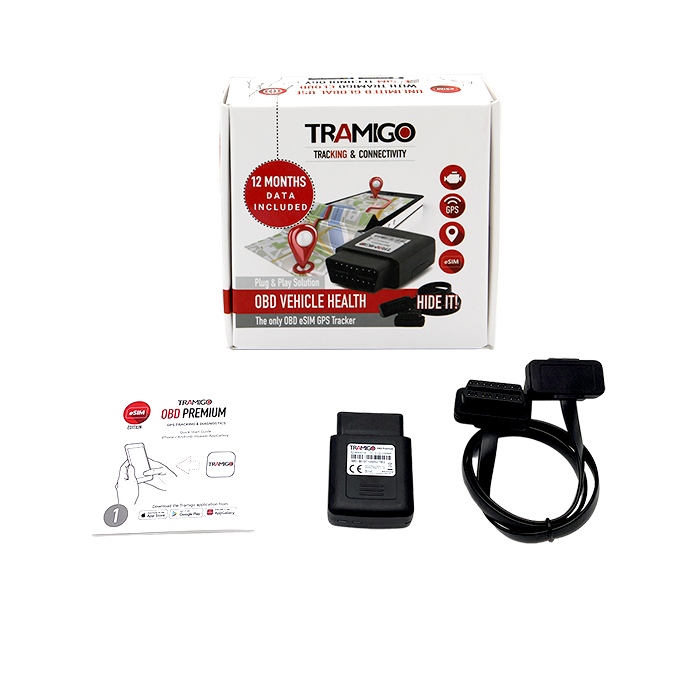 The Tramigo OBD Premium is equipped with a sensitive builti in motion detector which will alert owners if their parked vehicle is moved or raised.
Please view technical hardware specification below.
Hardware Specifications
Size
49 mm x 48 mm x 22 mm
Weight
58g
Backup Battery
Li-Polymer, 60 mAh
Operating Voltage
8V to 32V DC
Operating Temperature
-40 to + 80 ℃ for storage
BLE
Support BLW 4.2 protocol
GSM
Frequency:
850/900/1800/1900 MHz
Data Transmission
GPRS multi-slot class 33
EDGE
multi-slot class 33
GNSS Specifications
GNSS Type
u-blox All-in-One GNSS receiver
Sensitivity
Autonomous: -147 dBm
Hot start
-156 dBm
Reacquisition:
-160 dBm
Tracking
-162 dBm
Position Accuracy
Autonomous 2.5m
TTFF
Cold start: 27s average
Warm start
27s average
Hot start
1s average
Did you know that if you plan to track your vehicle for at least 24 months Tramigo OBD Premium will beat the rest of the competition in price clearly?
We compared the purchase price and the other costs you have to pay to use your product to reveal how Tramigo OBD is between 18,8% to 64,25% cheaper than its competition when you add the purchase price and data costs. Our pricing is straight forward without any hidden fees or surprise charges.
Read more on how owning Tramigo OBD Premium will end up being the most economical purchase you can make.