Black Friday 2021 Special Offer
Tramigo Black Friday Special Offer
Buy Tramigo OBD Premium using the special promotional code
BlackFriday2021

,and get the complete solution (includes: 12 months unlimited usage, the Tramigo OBD Premium EU Edition OBD 2 vehicle diagnostics and GPS tracking device, activation code for th TramigoApp for software for your mobile phone) for only 79€ and get free shipping too! (price excluding VAT)
Hurry now! Offer valid untill November 29th 2021, 23.59 Helsinki Time.
Redeem offer by entering the coupon code BlackFriday2021 during checkout.
Additional years can be purchased for 38€ through Tramigo.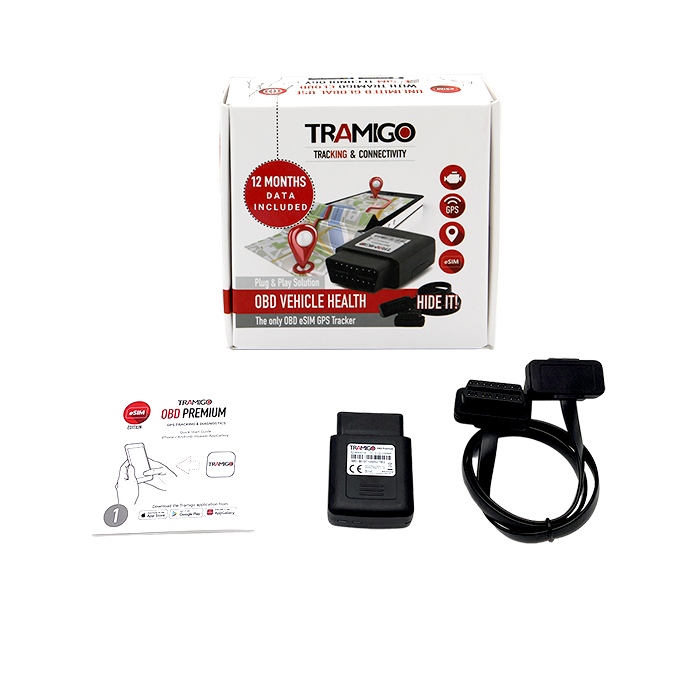 Tramigo OBD Premium is a complete vehicle GPS tracking and OBD diagnostics solution.
Solution includes the premium quality OBD2 device,with built-in in eSIM and prepaid data for 12 months included, no extra fees, activation code for the TramigoApp mobile phone software (availaböe at Android and IOS stores). The sales package also includes extra cable for covert installation.
Tramigo OBD premium is equipped with sensitive motion detection that can be set to send alerts if parked car is moved or anyone attempts to raise the vehicle with a car jack for example.
EU edition. Works in all 27 EU countries plus the United Kingdom and 10 other countries or territories/areas. (27 countries of the European Union , the United Kingdom and Switzerland, French Guyana, Gibraltar, Guadeloupe, Iceland, Liechtenstein, Martinique, Mayotte, Norway, Reunion)
Features and benefits include:
Diagnostics – read and reset DTC codes
Monitoring - driver behavior
Vehicle location - real-time GPS tracking
Multinetwork coverage - 90 networks across 38 countries
Peace of mind - vehicle and driver security
Get alerts if you parked car is moved or raised
Plug & Play - ready to go our of box with 12 months usage
Enjoy 24 months warranty
EU based product support
Quality components
Data privacy & EU hosted servers
Please note - Black Friday offer includes free shipping - please ensure you select the correct shipping option during checkout to take advantage!